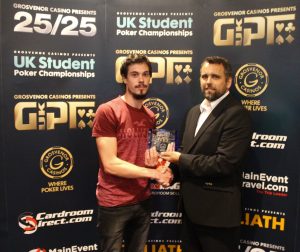 Whatever your thoughts on where football may be heading over the next few days, ones thing's for sure poker arrived home last week as The Poker Room played host to yet another scorching week of GUKPT action. It was the tour's second trip to London of the year and as predicted it was a huge success with cardroom bustling throughout the festival week. In total the £500+£60 buy-in Main Event attracted 358 entries, creating a huge prize pool of £179,000!
The Poker Room at London's Grosvenor Casino Victoria regularly welcomes some of the biggest names in UK poker and this GUKPT was no different with the likes of Willie Tann, Martin Bader, Joe Grech and last year's winner George Alexander all in attendance. However, despite the high calibre of competition it was ultimately 24-year-old satellite winner Patrik Szabo who finished on top, earning himself a cheque for just shy of £50,000! Whilst a relatively unknown name, Hungarian born Szabo impressed through-out the 3-day event. He first discovered poker through his father who taught him the game, and who has continued to mentor him over the years. Turning his satellite entry into such a huge win goes down as his biggest accomplishment to date, comfortably beating his previous best tournament result of £2,000. This is a name to look out for in the future and one we hope we'll be seeing back at a GUKPT table in the months to come.
Final tables at the London GUKPT are often a great showcase of what a diverse and cosmopolitan city London is. This time around we saw UK players joined by those hailing from Singapore, Israel, the USA and Hungary in the final 10. With young guns Mor Kamber, Keith Ongxun and Patrik Szabo lining up alongside UK poker stalwarts such as Kevin Williams, Kevin Houghton and Robert Boon this really was a great mixture of poker talent.
Venue: The Poker Room, London
Date: 1st to 8th July 2018
For details on satellites taking place at The Poker Room, London. For details on their satellites and for more details on the venue please call them on or visit their facebook page here
You can also qualify for the £100,000 GTD Main Event online at Grosvenor Poker with direct satellites taking place every Tuesday and Sunday
The complete GUKPT Leg 5 London Schedule can be found below. Alternatively click on any of the following days for instant access: SUNDAY| MONDAY| TUESDAY| WEDNESDAY| THURSDAY| FRIDAY| SATURDAY| SUNDAY|
| | | |
| --- | --- | --- |
| GUKPT 2018 | LEG 5 LONDON SCHEDULE | |
| | |
| --- | --- |
| Event 1 | £10,000 Mini Main Flight A |
| Buy-in: | £100 + £15 |
| Guarantee: | £10,000 |
| Start time: | 3.00pm |
| Re–entry: | Unlimited |
| Entry Period: | 6 levels |
| Days: | 2 days |
| Levels on Day 1: | 13 |
| Clock: | 40min |
| Starting stack: | 20,000 |
| Breaks: | 5.00pm, 7.15pm, 9.30pm, 11.45pm and 12.40am finish |
| | £10 buy-in Last person standing with 1 x £560 Main Event Seat GTD |
| | |
| --- | --- |
| Event 2 | £75 Turbo |
| Buy-in: | £75 + £7 |
| Start time: | 8.00pm |
| Re–entry: | 1 |
| Entry Period: | 6 levels |
| Days: | 1 day |
| Clock: | 15 mins |
| Starting stack: | 12,000 |
| Breaks: | 9.30pm, 11.45pm, 2.00am then finish |
| | |
| --- | --- |
| Event 1 | £10,000 Mini Main Flight B |
| Buy-in: | £100 + £15 |
| Guarantee: | £10,000 |
| Start time: | 5.00pm |
| Re–entry: | Unlimited |
| Entry Period: | 6 levels |
| Days: | 2 days |
| Levels on Day 1: | 13 |
| Clock: | 40min |
| Starting stack: | 20,000 |
| Breaks: | 7.00pm, 9.15pm, 11.30pm, 1.45am and 2.40am finish |
| | £10 buy-in Last person standing with 1 x £560 Main Event Seat GTD |
| | |
| --- | --- |
| Event 3 | £75 Turbo |
| Buy-in: | £75 + £7 |
| Start time: | 9.00pm |
| Re–entry: | 1 |
| Entry Period: | 6 levels |
| Days: | 1 day |
| Clock: | 15 mins |
| Starting stack: | 12,000 |
| Breaks: | 10.30pm, 12.45am, 3.00am then finish |
| | |
| --- | --- |
| Event 1 | Mini main Day 2 |
| Start time: | 6.00pm |
| Levels: | plays to conclusion. |
| | |
| --- | --- |
| Event 4 | 50/50 Bounty |
| Buy-in: | £50/£50 + £10 |
| Start time: | 7.00pm |
| Re-entry: | Unlimited |
| Entry Period: | 4 levels |
| Days: | 1 Day |
| Levels: | Until finish |
| Clock: | 4 x 30mins then a 20 min clock |
| Starting stack: | 12,000 |
| Breaks: | 9.00pm, 11.15pm, 1.30am, then finish |
| | |
| --- | --- |
| Event 5 | £100 Texas |
| Buy-in: | £100 + £10 |
| Start time: | 6.00pm |
| Re-entry: | Unlimited |
| Entry Period: | 4 levels |
| Days: | 1 Day |
| Levels: | Until finish |
| Clock: | 4 x 30min then a 20 min clock. |
| Starting stack: | 12,000 starting stack |
| Breaks: | 8.00pm, 10.15pm, 12.30am, then finish |
| | |
| --- | --- |
| Event 6 | 5 Seat Super Satellite |
| Buy-in: | £75 + £7 |
| Guarantee: | 5 x £500 + 60 GUKPT Main Event Seats |
| Start time: | 9.00pm |
| Re-buy and Add-on: | 1 |
| Re-entry: | 1 |
| Entry Period: | 4 levels |
| Days: | 1 Day |
| Levels: | Until finish |
| Clock: | 4 x 30min then a 20 min clock. |
| Starting stack: | 7,500 starting stack |
| Breaks: | 10.00pm, 12.15am, 2.30am, then finish |
| | |
| --- | --- |
| Event 7: | £100,000 Main Event Flight A |
| Buy-in: | £500 + £60 |
| Guarantee: | £100,000 |
| Start time: | 1.00pm |
| Re-entry: | 2 |
| Entry period: | 6 Levels |
| Days: | 3 |
| Levels: | 10 |
| Clock: | 60 mins |
| Starting Stack: | 20,000 |
| Breaks: | 3.00pm, 5.15pm, 8.15pm, 10.30pm and then finish at 12.45am |
| | 1 hour Buffet break at 5.15pm |
| | |
| --- | --- |
| Event 8: | Omaha 4/5/6 |
| Buy-in: | £100 + £10 |
| Start time: | 6.00pm |
| Re-entry: | Unlimited |
| Entry period: | 6 Levels |
| Days: | 1 Day |
| Levels: | Until finish |
| Clock: | 6 x 20 mins then a 30 min clock |
| Starting Stack: | 12,500 |
| Breaks: | 8.00pm, 10.15pm, 12.30am, 2.45am and then finish |
| | |
| --- | --- |
| Event 7: | £100,000 Main Event Flight B |
| Buy-in: | £500 + £60 |
| Guarantee: | £100,000 |
| Start time: | 1.00pm |
| Re-entry: | 2 |
| Entry period: | 6 Levels |
| Days: | 3 |
| Levels: | 10 |
| Clock: | 60 mins |
| Starting Stack: | 20,000 |
| Breaks: | 3.00pm, 5.15pm, 8.15pm, 10.30pm and then finish at 12.45am |
| | 1 hour Buffet break at 5.15pm |
| | |
| --- | --- |
| Event 7: | £100,000 Main Event Day 2 |
| Start time: | 1.00pm |
| Levels: | 9 OR the final table |
| | Buffet at 5.15pm |
| | |
| --- | --- |
| Event 9: | £200 Texas |
| Buy-in: | £200 + £20 |
| Start time: | 4.00pm |
| Re-entry: | Unlimited |
| Entry period: | 4 levels |
| Days: | 1 Day |
| Levels: | Until finish |
| Clock: | 30 mins |
| Starting stack: : | 17,500 |
| Breaks: | 6.00pm, 8.15pm, 10.30pm, 12.45am, then finish |
| | |
| --- | --- |
| Event 7: | £100,000 Main Event Day 3/Final |
| Start time: : | 12.00pm |
| Levels: : | Plays to conclusion |
| | |
| --- | --- |
| Event 10: | £75 Texas |
| Buy-in: | £75 + £7 |
| Start time: | 4.00pm |
| Re-entry: | Unlimited |
| Entry period: | 4 levels |
| Clock: | 4 x 30mins, then a 20 min clock |
| Starting stack: | 10,000 |
| Breaks: | 6.00pm, 8.15pm, 10.30pm, 12.45am, then finish |